A Court of Mist and Fury is the second book of the A Court of Thorns and Roses series by Sarah J. Maas. It is preceded by A Court of Thorns and Roses and succeeded by A Court of Wings and Ruin. It was released on May 3rd, 2016.
Like the previous novel, this novel also has fairy tale and mythological connections, with Hades and Persephone as this book's main theme.
Offical synopsis
Edit
Feyre survived Amarantha's clutches to return to the Spring Court—but at a steep cost. Though she now has the powers of the High Fae, her heart remains human, and it can't forget the terrible deeds she performed to save Tamlin's people.
Nor has Feyre forgotten her bargain with Rhysand, High Lord of the feared Night Court. As Feyre navigates its dark web of politics, passion, and dazzling power, a greater evil looms—and she might be key to stopping it. But only if she can harness her harrowing gifts, heal her fractured soul, and decide how she wishes to shape her future—and the future of a world cleaved in two. [1]
Plot Summary
Edit
Part 1: House of Beasts
Edit
The novel is set three months after the events of A Court of Thorns and Roses. Tamlin and Feyre are now engaged and Ianthe, a High Priestess of Prythian is planning the wedding arrangements. Unfortunately, the couple have not yet recovered from the traumatic events that occurred in Under the Mountain. Feyre is ill and suffering from nightmares, and Tamlin is constantly afraid for Feyre's safety. She is desperate to leave the manor and visit the nearby village, but Tamlin refuses and demands she stay at home.
During the days before the wedding, Ianthe and Feyre spend much of their time together. Ianthe expresses the importance the wedding to Feyre and the message it sends to the whole of Prythian. Tamlin and Lucien are away on official Spring Court business, however Tamlin does meet with Feyre at night. They embrace intimately, and Tamlin tells Feyre that she will not become a 'High Lady' because they don't exist.
Tamlin feels guilty for not letting Feyre out of the manor so the next day he allows Lucien and Feyre to visit the nearby village. They ask around the village to see if they can help with any duties, however everyone refuses their service.
The day of the wedding arrives. Feyre is extremely nervous and when she is about to meet Tamlin, she screams in her mind for help. Rhysand arrives at that moment, demanding that Feyre is to go to the Night Court. During the events of Under the Mountain, Rhysand bargained with Feyre to save her life, if she was to join him at the Night Court for one week a month.
Rhysand takes her to his private residence at Night Court. Though Feyre was saved from having to participate in the wedding, she demands to be taken back. Due to the bond they both share, Rhysand reveals that he has had visions of her being terribly ill. He heard her plea for help and immediately left to bring her to his court. In annoyance, Feyre throws her shoe at Rhysand's head.
Feyre lives at the Night Court for the rest of the week. She finds the court less horrible that she anticipated. During the week, Rhysand wants her to learn how to read, and insists that she also should learn how to shield her mind. Rhysand therefore teaches her these skills. Feyre also meets Rhysand's cousin, Morrigan who is eager to become her friend.
Rhys also tells her that he believes a war with Hybern is imminent. He believes that the King of Hybern wants to invade the Mortal Lands south of the Wall and possibly the faerie lands. He also tells her that, due to her resurrection as a High Fae, she may have inherited new powers. Rhys believes that she train these powers, and become a weapon who can save the mortal world.
At the end of the week, Feyre returns to the Spring Court. Tamlin and Lucien immediately interrogate her for information about the Night Court. It is rare for anyone to gain access to the Rhys' court so Tamlin wants to know as much information as possible. Though Feyre doesn't want to, she obliges and tells Tamlin about her possibility that she has powers. However, Tamlin refuses to let her train.
One week passes and then The Tithe arrives. The Tithe occurs twice a year. Every faerie in the Spring Court must give Tamlin a gift. In exchange, Tamlin promises to protect them. If a faerie is unable to give Tamlin a gift, then he expected to hunt them down. Feyre sits beside him while the Tithe occurs.
A water-wraith enters the room and informs Tamlin that she is unable to pay the Tithe. She begs him to make an exception, but Tamlin refuses. He gives her three extra days to pay the Tithe, overwise she will have to pay the consequence. Feyre is offended by Tamlin's behaviour as she believes that he should have made an exception.
Feyre storms away and meets with the water-wraith. She gives her all the jewellery she has on her possession, allowing the water-wraith to pay her Tithe. Tamlin is outraged at this as he believes that she undermining the rules of the court. Feyre, however, is sympathetic towards the water-wraith because she has suffered from poverty herself. Lucien stands up for Feyre but Tamlin is still angry. During their argument, Feyre accidentally enters Lucien's mind, revealing her powers as a Daemati.
Tamlin later apologies to Feyre and gifts her a painting kit. Feyre, however, is dismayed. She has lost interest to paint, due to her trauma from Under the Mountain. She instead turns the conversation back to Tamlin. Becoming increasingly distressed, she explains how she is 'drowning' under Tamlin's constant protection. Her distress escalates until breaking point. Tamlin gets mad and his power explodes—shattering the windows and the furniture into pieces. She unknowingly creates a physical wall, blocking herself from Tamlin. He immediately apologies to Feyre, promising again to be better.
Feyre is later taken to the Night Court again, due to her bargain. Rhys appears worried and asks about a spike of fear he felt from their bond.
Part 2: The House of Wind
Edit
Part 3: The House of Mist
Edit
Special editions
Edit
A Target special edition includes an exclusive story about Nesta and Cassian called Wings and Embers.
Manuscript development
Edit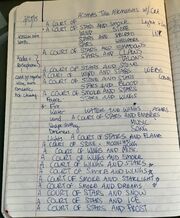 The first draft of A Court of Mist and Fury was written entirely in a split POV between Feyre and Rhys. [2]
This installment of the series went through multiple name changes. [3]

A Court of Wind and Stone was the 'working title' of the book. However, Bloomsbury UK informed Sarah that 'wind' has a different meaning across the Atlantic, so it was quickly changed to A Court of Mist and Stone.
Then, during her Queen of Shadows tour, her editor suggested A Court of Calm and Fury. Maas liked the word 'Fury' and thought about including it in the title.
Maas brainstormed a number of titles in her notebook. Among them included A Court of Stars and Smoke, A Court of Wings and Stars, A Court of Venom and Silver and a A Court of Stars and Frost. She later finally chose A Court of Mist and Fury.

During the writing process, Sarah J. Maas was inspired by various pieces of music. She compiled her music into a spotify playlist, featured on the right.

Not Human by Javier Navarrete: This track from 2006's Pan's Labyrinth inspired the entirety of the Weaver in the Wood sequence.
"Cosmic Love" by Florence + the Machine: This track was one of the pieces that inspired the Starfall scenes. Maas might even go so far as to call it the theme song for the entire novel.
"Curtain Call" from the Shakespeare in Love soundtrack: This track inspired the events on page 530 (Chapter 55), where Rhysand and Feyre have sex.
"Gun" by CHVRCHES: This track inspired the last scene in the book, where Feyre returns to the Spring Court.

Like the previous novel, A Court of Mist and Fury is inspired and based around multiple fairy tales and myths, including:

Hades and Persephone: The greek myth inspired large parts of the novel in that Rhysand (meant to represent Hades) takes Feyre (Persephone) against her will to a place that is considered dark and evil, and eventually convinces her to stay.
Hansel and Gretel: This fairy tale inspired the character of the Weaver. [3]
References
Edit
Ad blocker interference detected!
Wikia is a free-to-use site that makes money from advertising. We have a modified experience for viewers using ad blockers

Wikia is not accessible if you've made further modifications. Remove the custom ad blocker rule(s) and the page will load as expected.